Our 13th edition cover story marks the rise of Ahmad Farid Amiri, CEO and Co-founder of Slice Bakery – and how Farid has been cooking up confidence in Afghanistan's service industry while sharing his insights on leading an impact-driven business. Cafe shops are a distinct feature of a cultural city; from Paris to New York and now in Kabul, cafés constantly remind us that a revolution may be on its way when a good barista is in town. Farid Amiri walks us through the journey of Slice Bakery & Cafe, how it has become a household name and what it takes to become a self-made success.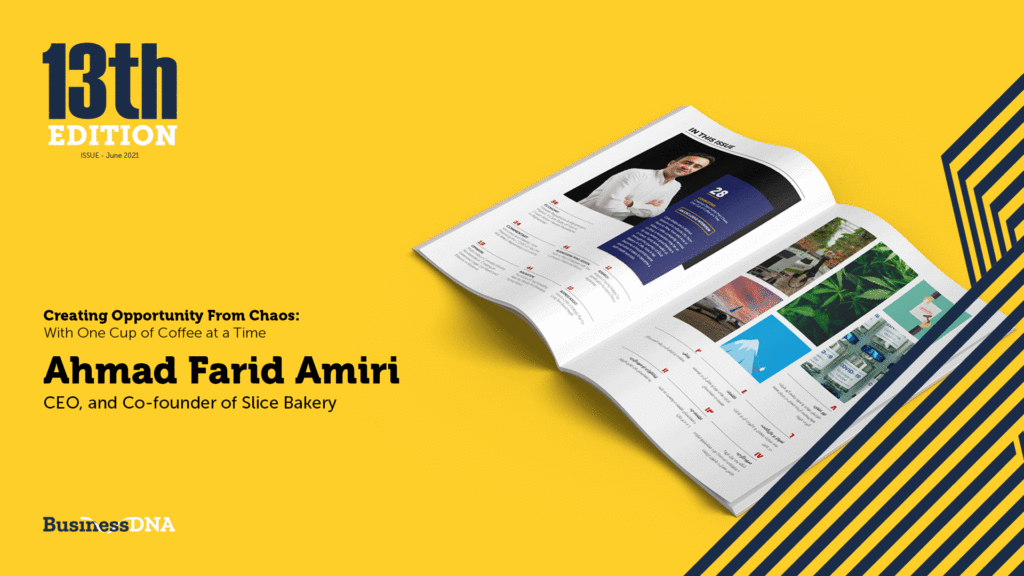 In this edition, you will read from:
Haroun Rahimi, Assistant Professor of Law at AUAF & Visiting Research Fellow at Oxford Center for Islamic Studies; Rahfeal Gordon, Global Leadership Advisor, Entrepreneur, and Author;
Nargis Rahimi, Founder & CEO of Eva AS;
Siamuden Pasarly, Communication and Business Development Consultant & Founder of Siam Business,
and other notable business leaders and thinkers.
The 13th issue of BusinessDNA brings you an update of economic research and analysis, business investment opportunities, and management best practices. The latest edition of BusinessDNA is available in print (through our 30 distribution centers) and our digital magazine. Access articles from our current issue online at https://digital.businessdna.af/13th.