Business DNA is Afghanistan's grand business magazine, bringing you entrepreneurial stories, business intelligence, economic research and analysis, investment opportunities, and management best practices in print and digital editions from the heart of Afghanistan in Kabul. Business DNA is your ultimate go-to source for data, information, and advice on doing business in the country. With a fan base of hundreds of thousands of local and global readers, Business DNA is setting the narrative on business and economics in Afghanistan.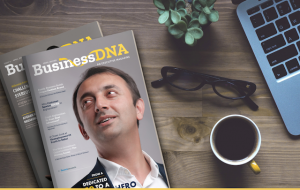 Business DNA covers diverse areas of the Afghan economy including trade, agriculture, mining, health, ICT, government, investment, entrepreneurship, banking, finance, and many more. Business DNA's content is brought to you through the work of dozens of contributors, journalists, and experts from Afghanistan and around the world. As an independent media organization, our editorial policy heavily relies on high standards of research and ensures publication of quality content as close to the truth as possible, without any affiliation or support to a specific political group. Feel free to read our terms of use and privacy policy. Business DNA is published quarterly and is complimented with occasional special editions such as its first of its kind Fashion Edition in September 2019.
Business DNA has so far published 6 unique editions, covering over 50 topics, reaching 25,000 readers, addressing 20 industries, showcasing 15 stories, and reaching over 25 cities in the world. Business DNA's readers are mostly in Kabul and the four other major cities of Afghanistan, Dubai, New Delhi, Islamabad, Washington D.C., New York City, Vancouver, Toronto, London, Berlin, Hamburg, Brussels, Amsterdam, Paris, Rome, and many more cities of the world with a connection to life and business in Afghanistan.
You are welcome to subscribe to Business DNA's print and digital versions, contribute and suggest content, advertise in the magazine, partner with us and sponsor our researches.