BusinessDNA is Afghanistan's grand business magazine, bringing you entrepreneurial stories, business intelligence, economic research and analysis, investment opportunities, and management best practices in print and digital editions from the heart of Afghanistan in Kabul. BusinessDNA is your ultimate go-to source for data, information, and advice on doing business in the country. With a fan base of thousands of local and global readers, BusinessDNA is setting the narrative on business and economics in Afghanistan.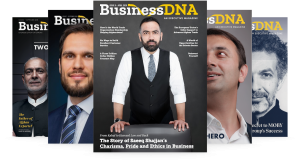 BusinessDNA has so far published 9 unique editions, covering over 75 topics, reaching 25,000 readers, addressing 23 industries, showcasing 25 stories, and reaching over 25 cities in the world. BusinessDNA's readers are mostly in Kabul and the four other major cities of Afghanistan, Dubai, New Delhi, Tehran, Islamabad, Istanbul, Washington D.C., New York City, Vancouver, Toronto, London, Berlin, Hamburg, Brussels, Amsterdam, Paris, Rome, and many more cities of the world with a connection to life and business in Afghanistan.
Our audience embodies private sector (56%) , international organizations (16%), government (9%), embassies (5%), youth and students (14%). Nearly 68% of our readers are local and the rest of 32% live outside of Afghanistan.
You are welcome to subscribe to BusinessDNA's print and digital versions, contribute and suggest content, advertise in the magazine, partner with us, and sponsor our researches.