Achievements. Challenges. Opportunities.
---
Civil aviation is an evolving global industry that provides vast connectivity and safe and fast air transport around the world. According to the recent data published by IATA, with over 1,400 scheduled airlines, 26,000 aircrafts in service, 3,900 active airports, and 173 air navigation services providers, the aviation industry provides an unparalleled global platform for individuals and businesses alike, supporting sustainable economic development.
In 2017, more than 4 billion people used air transport around the world. The aviation industry supports 62.7 million jobs from which 9.9 million people directly work in the industry itself. It's projected that demand for airports and passenger services will increase by approximately 50 percent in the next decade; air cargo is anticipated to increase by approximately 80 percent over the same time period. Today, aviation is an indispensable element of the modern life that plays its vital role in every aspect of life, business, and government around the globe.
AVIATION INDUSTRY IN AFGHANISTAN
A land-locked country, Afghanistan is located at the geopolitical fault lines of the Greater Middle East, Central and South Asia. With no access to waterways and no share in shipping lanes, it has more heavily relied on air transport with a vested hope on its newly developing railways to connect itself with the markets of the region and the world. In Afghanistan, though civil aviation has a rather long history, since the establishment of the Ariana Afghan Airlines in January 1955, its development has been affected by years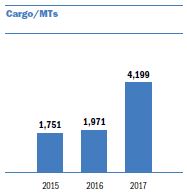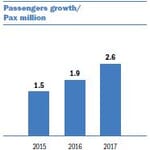 of war and political instability. In the recent years, the Afghan government has re-shaped its approach toward the region with the reformulation of its political and economic development priorities to focus more on connectivity with the region and beyond, fueling the aviation industry as fast-track approach to transport and transit of goods and passengers. However small, aviation industry provides vital support to Afghanistan's growing export industry i.e. of dry and fresh fruits. In the past years, cargo traffic from Afghanistan's major airports has increased from 1,751 tons in 2015 to 1,971 tons in 2016to 4,199 tons in 2017, showing an increase of 113% since 2015. Similarly, overall passenger traffic increased from 1.5 million in 2015 to 1.9 million in 2016, and to 2.6 million passengers in 2017, a tremendous growth of 37% only in the last year.increase of 113% since 2015. Similarly, overall passenger traffic increased from 1.5 million in 2015 to 1.9 million in 2016, and to 2.6 million passengers in 2017, a tremendous growth of 37% only in the last year.
AFGHANISTAN AS THE ROUND-ABOUT OF INTERNATIONAL AIRLINES
Afghanistan's air space provides the shortcut for international airlines to cross over the region for inter- and intra-regional destinations, serving as a new silk road connecting the East and West horizons. In 2017, there were over 86,000 commercial over-flights through Afghanistan's airspace. Every flight that passes through Afghanistan air space pays a fixed fee of 700 USD that helps cover the state expenses of air traffic control, navigation and surveillance including the expenses for its advanced radar system of WAM-ADSB. In 2018, the certification of the WAM-ADSB system also enabled the better and more effective horizontal and vertical route separation. This allows Afghanistan aviation authority to draw more routes and open new corridors, increasing over flights by attracting more aerial traffic. Recently, Afghanistan Civil Aviation Authority (ACAA) has been able to allow direct ascendance of flights to above 31,000 feet with better interoperability management.
AIRLINES
Despite investment of millions of US dollars in the aviation sector, the market demand in the aviation sector has remained unmet. In 2013, eight airlines were registered with the Ministry of Transport and Civil Aviation by getting Air Operator Certificates, but only four of them were operational, suffering from financial mismanagement and safety compliance issues. While banned from flying to destinations in Europe and beyond, Afghan airlines' operations were limited to routes within the region, mostly to the neighboring countries. The two crashes of flights of domestic airlines in 2005 and 2010, i.e. Pamir Airlines flight 112, severely impacted the industry and together with other deficiencies and technical factors, exposed the safety oversight system of the Afghanistan civil aviation to questions and criticism.
As a result, the government took the numerous critical initiatives to change course and improve the sector, starting from promulgation of a new Aviation Law and establishment of the Afghanistan Civil Aviation Authority (ACAA) in 2013. The ACAA put safety and security first and pushed for reforms within the fledgling aviation industry that included a full recertification of all airlines and service providers. Today, Afghanistan's civil aviation sector is expanding on a more solid and well-regulated basis and moving forward to catch up with the larger global aviation family.
Given the vital role of air transport services in enhancing economic growth, tourism, trade, investment, and regional and international connectivity, ACAA has initiated a policy of facilitating expansion of the sector with an emphasis on international standards and best practices to ensure safety and security of the users.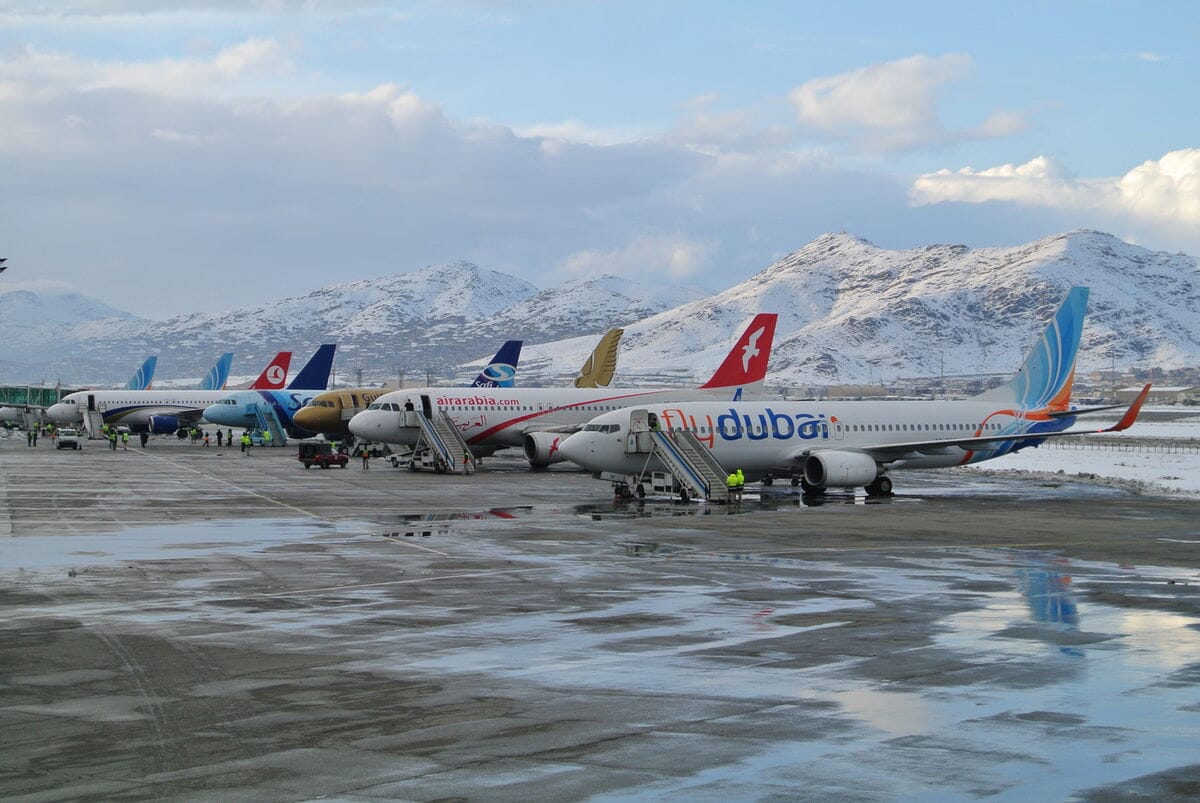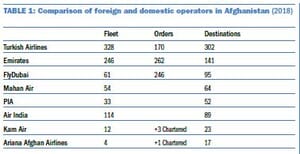 To further develop the aviation sector, the ACAA has encouraged domestic airlines under strict regulations and standards to meet the needs of the aviation sector. To foster connectivity, Afghanistan has signed Agreements with different Countries and opened up the air Transport sector to International airlines. Our market policy has mainly been grounded on equal basis in granting traffic rights and operational capacity and frequency to foreign operators. Despite the progress, our main issue during the past few years has been the capacity and capability of domestic airlines to compete with foreign operators.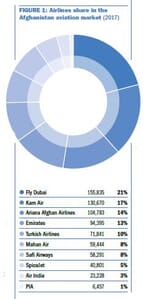 Foreign airlines possess new and bigger models of aircrafts (i.e. A-340, B777, and B737-800) with multiple destinations and a global reach. Domestic airlines operate older and smaller aircrafts (i.e. A310, A340, B737-500, B767) that are mostly leased from foreign countries and can carry less than 200 passengers. In 2017, over 2.5 million people traveled by air transport in Afghanistan, which included 745,745 international passengers, 599,850 domestic passengers, and a similar figure of arrivals. Afghan airlines dominated the domestic market as the ACAA has not granted domestic traffic rights to foreign operators yet. In domestic market, Kam Air had a share of 75%, Ariana Afghan Airlines 16% and Safi Airways 9% until its closure in mid 2017. In international markets, foreign airlines had a share of 61% while Afghan airlines had a total share of 39%.
Afghanistan's aviation industry has experienced a rapid growth in the past few years. On the government side, the annual revenue in 2017 was about US$85 million, up by 68% from about US$51 million in 2015, showing a 68% growth between the two years. Considering three years (2015-2017), aviation industry in Afghanistan has had a 25% of annual average revenue growth.
TOURISM AND THE FUTURE PROSPECTS OF AVIATION
Tourism is fast becoming the world's largest industry and air transport plays a very important role in supporting this sector. Conservative analysis suggests that aviation supports over 36 million jobs within the tourism industry globally.
In Afghanistan, however, tourism industry has been severely impacted by the security situation. In spite of having a considerable biodiversity, natural wonders and the diverse flora and fauna, historical monuments and numerous cultural heritage zones, Afghanistan's tourism industry has collapsed in the shadows of conflict and insecurity. Touristic destinations such Bamyan have attracted increasing numbers of domestic visitors, but for foreign tourists, the time has yet to come.
Today, there are more than 1,200 travel agencies registered with the Ministry of Information and Culture, but they mostly act as sales agents for airlines rather than providing tourism services. Given the touristic attractions of Afghanistan, if the security situation improves, the tourism industry intertwined with a thriving aviation industry can support thousands of jobs and provide the country's economy with a vital resource for development and growth.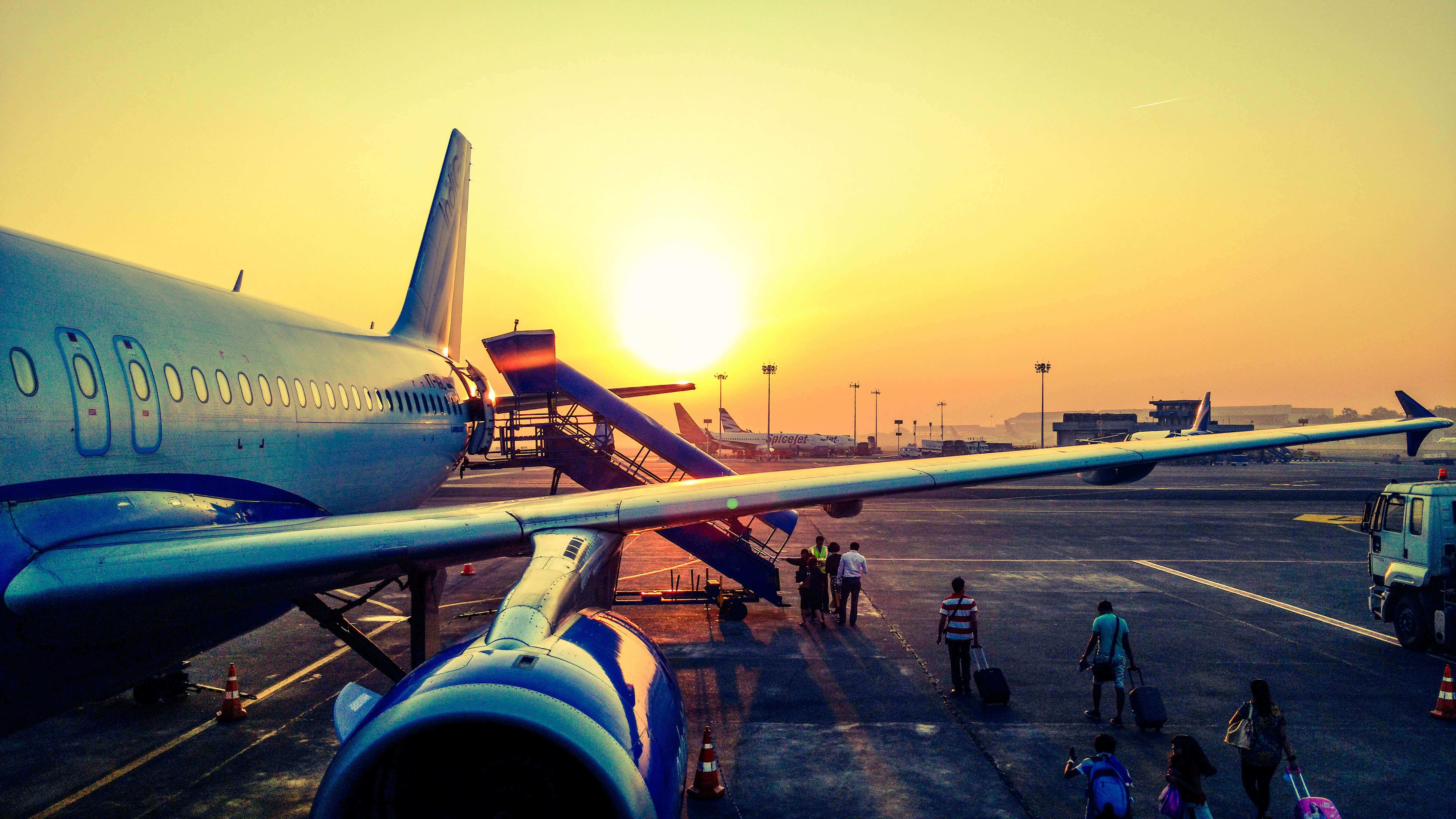 INVESTMENT OPPORTUNITIES UNDER PPP INITIATIVE
Aviation is a fundamental pillar of any state's economic growth, serving as a true economic multiplier. On average, one aviation job supports three non-sector jobs. Jobs with airlines, air cargo companies, aviation fuel distributors, airport hotel management, airline maintenance and repair organizations, and Export Processing Zones will all draw from and attract investment in the local workforce.
Civil Aviation sector is open for investment by the private sector. Afghanistan Civil Aviation Law provides for outsourcing services to private investors, the only exception being the air traffic control. In the past one and half decade, some of the very costly infrastructure have been constructed by ISAF, NATO or US forces as they used the major airports and airfields for military operations, such the Bastion Airport, which was developed with an investment of around US$3 billion. With the shrinking foreign aid, however, the Afghan government is not able to afford expensive projects by itself, unless it facilitates major investments from the private sector.
Luckily, under the Public-Private Partnership (PPP) initiative, a framework for involvement of the private sector has been laid down. ACAA, under this initiative has developed plans for investment of the private sector in six major areas, starting from Hamed Karzai International Airport (HKIA). These investment areas include a five-star hotel (Airport Hotel), New International Passenger Terminal at HKIA, Cargo Terminal, Fuel Farms, Maintenance Repair Organization (MRO) for aircrafts, and Airport Export Processing Zone. Implementation of these projects requires major investment from the private sector.
The Feasibility Study of these projects is currently in progress and once completed, ACAA will move forward to the contracting stage of these projects. Similar projects are also planned at other three international airports (Kandahar, Herat and Mazar-e-Sharif). The civil aviation industry of Afghanistan is growing at a modest pace. Important strides have been taken in the past years, but additional initiatives are still required at both policy and administrative management levels to enable the industry to flourish in a well-regulated market system. Provision of easy loans for the airlines and service providers is a key element for development of the aviation industry in Afghanistan.