Business DNA Launches 7th Edition, Featuring AHG's Sanzar Kakar
"Why Is Sanzar Kakar Investing Millions in the Afghanistan of Tomorrow?" An Inside Story of AHG's Unshakable Success

@Business DNA
"Why Is Sanzar Kakar Investing Millions in the Afghanistan of Tomorrow?" is the main subject of Business DNA's 7th Edition, launched in a grand networking event at Serena Hotel in Kabul on October 16, 2019. The event was attended by more than a hundred guests including CEOs, entrepreneurs, government officials, donor representatives, and enthusiasts from the private sector.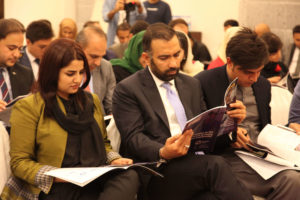 After an hour of business networking and exchange of ideas, the invitees participated in a snowball activity where they wrote their answers to a simple yet important question: "Why are you investing in Afghanistan? What prompts you to continue working in the country?" The guests threw their paper balls to one another and read each others' answers. The answers were inspiring, fun, and honest. The answers shall be shared on this website soon.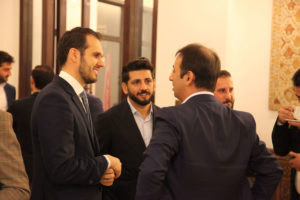 Business DNA's Chief Editor, Murtaza Edries, introduced Business DNA as a platform beyond just a business magazine. He said, "Business DNA, as we think of it, will be 'the mini Bloomberg of Afghanistan', but focused more on analysis than news, trying to become the go-to place for business and economic intelligence in Afghanistan." He introduced the various sections of their new website, including sector-based content, a shop with books for purchase, a resource center, and most importantly, the digital Business DNA.
The digital version allows readers around the world to subscribe and read previous, current, and future editions online. This is most suitable for international readers with limited access to the print edition, mostly available inside Afghanistan.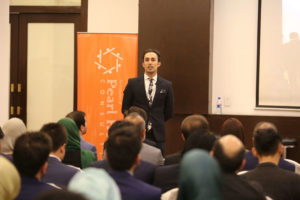 "While Afghanistan is experiencing a volatile and unpredictable future, entrepreneurs like Sanzar Kakar keep investing in the country and encourage thousands more to follow, never giving up on Afghanistan's potential for peace and prosperity." reads the introductory paragraph from the magazine's main story. After a quick introduction, key guests such as Ms. Mariam Sama, current parliament member; Mr. Saeed Mubarak al-Khayarin al-Hajri, Qatar Ambassador to Afghanistan;  Mr. Saeeq Shajjan, CEO of Shajjan&Associates; Ms. Susan Slombak, Chief of Party at FHI360; and Ms. Tania Aria, Founder at Veezha Jewelry, supported by the enthusiastic company of the audience, cut the ribbon and opened the cover of the magazine.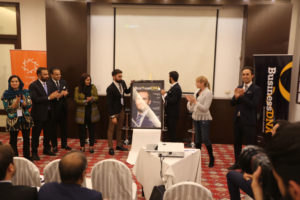 In his speech to the audience, Sanzar Kakar read & reflected on a poem from Robert Frost and one from Maltbie Davenport Babcock that summarized his message to the audience.
The event continued with a Q&A session with Sanzar Kakar who shared his insights about many of the Business DNA's and the audience's questions. One question, in particular, shaped the discussion well: "if you were given 10 million USD as seed funding, what investments would you make to create 1 million new long-term jobs for Afghan youth?" Sanzar's answer was to leverage the power of technology and enable a large number of young Afghans through a platform similar to TaskRabbit to sign up for and carry out millions of outsourced tasks at their own capacities. The Q&A included questions such as why Sanzar has divested from multiple ventures? How come his work on the cryptocurrency of Afghanistan didn't work? How much would he buy AHG for had he not owned it today? What was his fear? What would be the one habit that he could, to a large extent, attribute his success to? His answers to these questions were honest, convincing, and educating. Business DNA's video series will present the answers soon.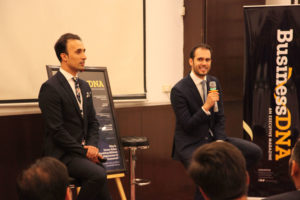 The event concluded with congratulations from the audience to Sanzar and Business DNA for yet another grand edition. Photography and networking continued where guests shared their feedback about, impressions of, and ideas for Business DNA.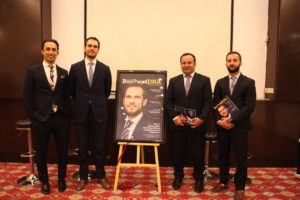 Business DNA covers diverse areas of the Afghan economy including trade, agriculture, mining, health, ICT, government, investment, entrepreneurship, energy, and many more. Business DNA's content is brought to you through the work of dozens of contributors, journalists, and experts from Afghanistan and around the world. Its editorial policy heavily relies on high standards of research and ensures publication of quality content as close to the truth as possible, without any affiliation or support to a specific political group. Business DNA is currently published quarterly and is complimented with occasional special editions such as its first of its kind, Fashion Exclusive, planned for November 2019.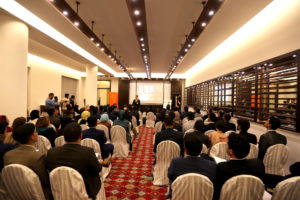 Business DNA magazine is available by subscription in print or digital, and through its distribution centers across Kabul. Special bulk orders can be made by email. Photos, videos, quotes, and management tips can be found on Business DNA's social media pages on Facebook, Instagram, LinkedIn, and Twitter.